Vijay Singh Ajairajpura
Birth Place: Jaipur
Formal Education: Mayo College, Ajmer | Graduation : Mass Communication at Carleton University in Ottawa, Canada
Informal 'custom' Learning:  YouTube videos. Aesthetic inspirations – Californian builder Jesse Rooke's cruisers.
Genetics: His Father used to race for Jaipur Motorcycle club back in the 70s and his grandfather organized the first all-India MotoX race in Jaipur back in 1977.
Quote: "Ask a man who rides a Royal Enfield why he splurges on his bullet when he can get a car for the same price, and he will laugh at your naivety".
Owner:  Rajputana Custom Motorcycles (RCM), est. 2010
What he does?: He modifies existing bikes (Royal Enfield to Triumph to Harleys) as well as build them from scratch, under his banner RCM.
What it costs to own one of his works: Rs. 80,000 to Rs. 8 lakhs. And it all depends.
Scratch to Custom: Two-and-a-half months
His work: Laado, Aghori, Rajmata, Jordaar , Gulail, Bitoo and so on.
Some Cool Facts
1. His first bike (when he was just 7 years old) – 50cc BSA Falcon AKA a BSA Bond
2. First custom bike – 'Original Gangster'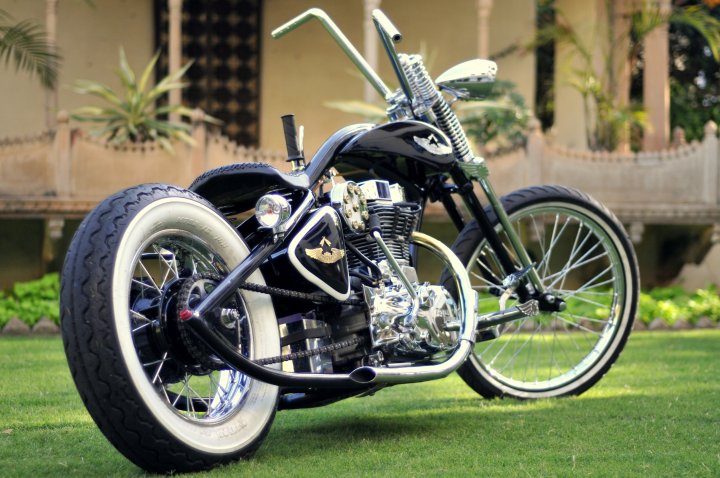 3. First Client : 'John Abraham', and the bike : 'Lightfoot' 
4. He has won a podium stand at JK Tyre Superbike championship!
5. 'Adventure' is his middle name.
6. His 'Rajputana Custom Motorcycles' Team
7. His Ted Talk
8. Check out all his amazing work here.
How to approach 'Rajputana Customs Motorcycles'? :
E-mail: rajputanacustoms@gmail.com
Address: Civil Lines, Jaipur, Rajasthan, India. PO Box :302006
Check out their website here.
Check out their facebook page here.
Shop merchandise here.