Tapri is certainly One of its Kind 'Boutique Tea Lounge' with an upmarket tapri atmosphere. Tapri is a perfect blend of street shed tapri and an air-conditioned cafe. Tapri Central (Tapri Dwitya/second :), since the one at Lal Kothi is known as Tapri Pratham; TYW's take!) has an open terrace with sheds and wooden stools and tables arranged in a way that it feels you are sitting at a street tapri, but this one is on the roof and presents you with the serene view of Jaipur's biggest and the liveliest park (Central Park where you can see people jogging, walking, playing in the park and a waving flag which will definitely surge some patriotism).
The 'Tapri Inside' is nothing short of creativity and innovation. Once you enter you gaze at the pictures of tea thadi's and decorated kettle's, you find an old radio and a cool 'happily unmarried store' with its quirky and unusual stuff. You are bound to be mesmerised by its vibes and will get comfortable in no time, when you see a crowded place full of joyful people talking, laughing, and enjoying themselves .
The 'Tapri Inside' is again divided into 'Tapri Left' and 'Tapri Right', the one on the left is artistic with painted canvas cloth done ceilings on black base, and lot of pictures and paintings hanging on the bright walls and a nice collection of books. 'Tapri Right' is done with the basic wooden stools n benches and gives you a typical desi tapri feel.
In a thoughtful first, Tapri serves tea with Parle-G biscuits. Parle-Gs were invented to compliment Teas, TYW wonders why no tea lounge has ever thought of it. Till date they manage to stay unique in terms of food, ambience, service and whatever they do!!
Cool things @ Tapri which deserve High Five !!
a) Motto
b) Its ultra creative yet so funny menu !! Trust us they serve "OMPURI" for a Smiley. We swear its true. And here is the proof. (6th item from top)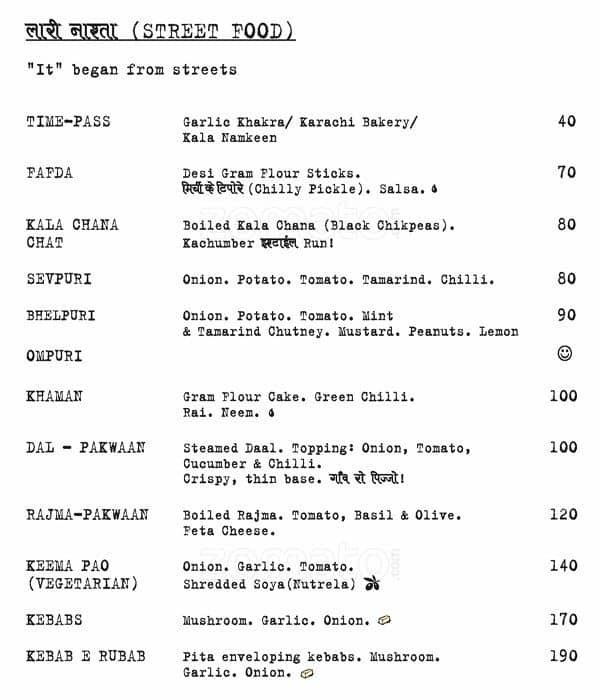 c) They flunked mathematics yet they are proud of it and we guess nobody cares.
d) Shopping
e) Ambience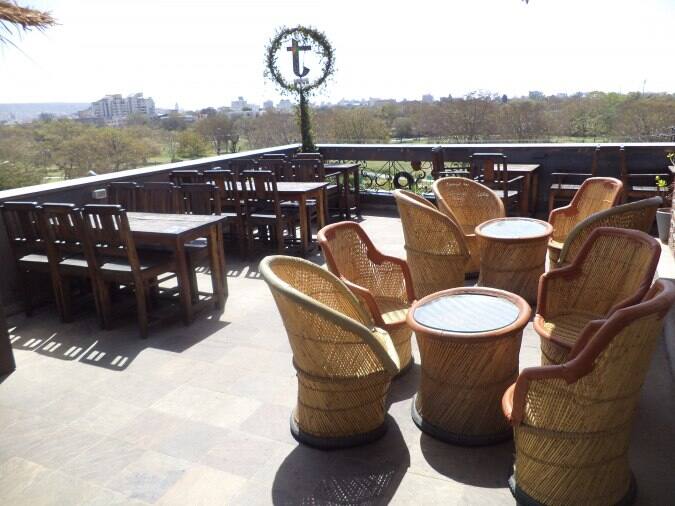 f) And FOOD; Certainly.
 TYW suggests:
Drinks: Masala chai, Cutting chai, hibiscous tea, Black Currant Iced Tea, Hibiscus Iced Tea, Lemon Mint Tea, power-berries and Chinese Herbal Tea.
Eats: Poha, Bun Samosa, Special Vada Pao, Jacket Potato, Sprouts, Tofu Bhurji, Sautéed Vegetables, Aloo ka Paratha, Mushroom Stroganoff, Pastas and Goan salad.
Shopping: Tapri goodies (lovely colorful tea glasses and kettles), jute bags, different teas (Assam tea, Herbal Tea, Jasmine, Pear, Masala Chai, White tea and what not).
TYW verdict:
Thumbs up for the vibes, the food, the ambience and the music. They always serve you with a smile. Food is always fresh and they are awesome at what they do best, serving the best TEA. Tapri Central is TYW's preferred choice.
Address: There are 2 Tapri Outlets in Jaipur.
Tapri Pratham  – 43, Everest Colony, Lal Kothi, Tonk Road, Jaipur.
Tapri Central – B4-E, 3rd Floor, Surana Jewelers, Opposite Central Park Park, Prithviraj Road, Jaipur.
Timings – 7:30 AM to 9: 45 PM
Visit them on facebook here.