AZA – Fairmont
Aza exudes an old-world charm replete with an experience in laid-back classic luxuries. With its warm interiors, you're sure to enjoy every moment of your time here. The main draw of this place is its exclusive whiskey appreciation station.
TYW recommends: Drinks – Explore the whiskey appreciation station Bytes – Falafal pita platter, Paneer chakri, chicken tikka
Address: Fairmont Jaipur, 2, RIICO, Kukas, Jaipur
Zomato it here.
Polo Bar – Taj Rambagh
Themed around the princely equestrian sport, the interiors of this place have essentially captured the true essence of this royal sport. A  pool, Napoleonic tent, trophies and classic upholstery make the place an ideal outing for all the sports enthusiasts and people with exquisite taste.
TYW recommends: Visit this place for a refreshing outing with friends for a couple of drinks. Try out their collection of finest rare whiskies, signature cocktails, single malts, cognacs, wines and liqueurs, underlined by a hand-picked selection of Cuban cigars, unique list of home-made iced teas, lemonades and ginger ales.
Address: Taj Rambagh Palace, Bhawani Singh Road, Near C Scheme, Jaipur
Timing: 7:00 pm till 11:00 pm
Zomato it here.
Bar Palladio – Hotel Narain Niwas
Old world's charm, revived in shades of blue; the aura of this place is magnetic. Everyday is a different day here, they surprise their guests with different types of entertainment through the week. They have two seating options; outdoor – well maintained lush green lawns and indoor – relaxed seating and soothing ambiance.
TYW recommends:Drinks – Bellini, Rossini, Tom Collins, Pina Colada, wines Bytes – Gazpacho, Gnocchi in Pesto Sauce, Semifreddo al Caffe
Address: Hotel Narain Niwas, Kanota Bagh, Narayan Singh Circle, Jaipur
Contact: 0141 2565556
Zomato it here.
Sheesh Mahal Bar – ITC  Rajputana  Hotel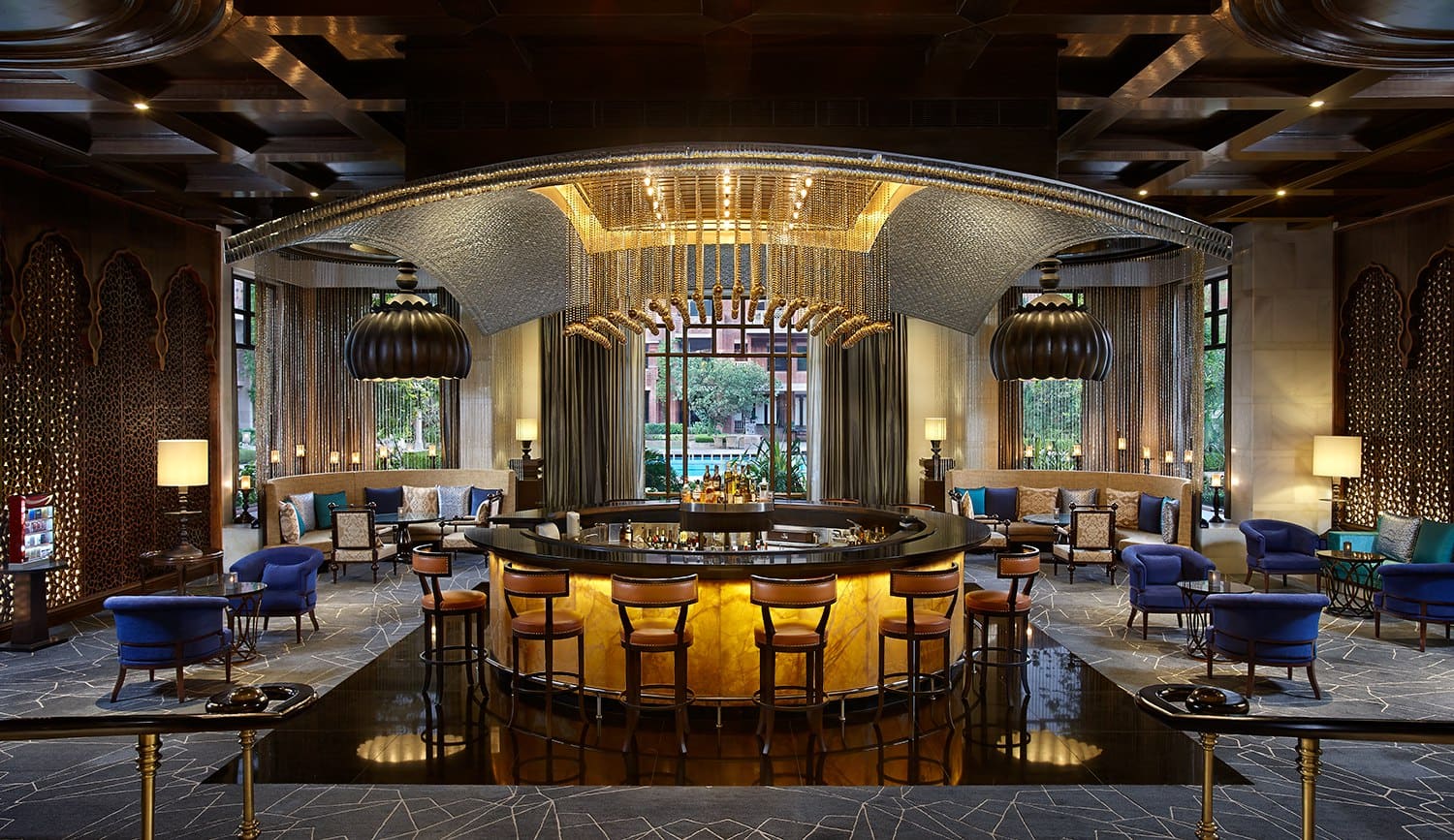 The revamped bar is now located at the centre stage. The ambiance is elegant and flashy. The attention to detail will catch your fancy at the moment go. The Bar is well stocked and would never disappoint you.
TYW recommends: Drinks – Single Malts, wines and cocktails. Bytes – Munchies
Address: ITC Rajputana Hotel, Palace Road, Gopalbari, Jaipur
Contact: 0141 5100100
Zomato it here.