Mihir Garh
Astonishing exteriors and amazing interiors!!! Wow!!! A place TYW recommends for all the couples for an exotic desert romance experience. The tall mud walls and candle lit little alcoves, traditional fireplace with beautiful mirror work (by the local works-men), private plunge pools overlooking the desert and so much peace. One of the best places for a candle light dinner with your loved one with local music and lovely food. Mihirgarh is not just a hotel, its an experience! Just go for it.
Find their Website here.
Ranvas(Nagaur)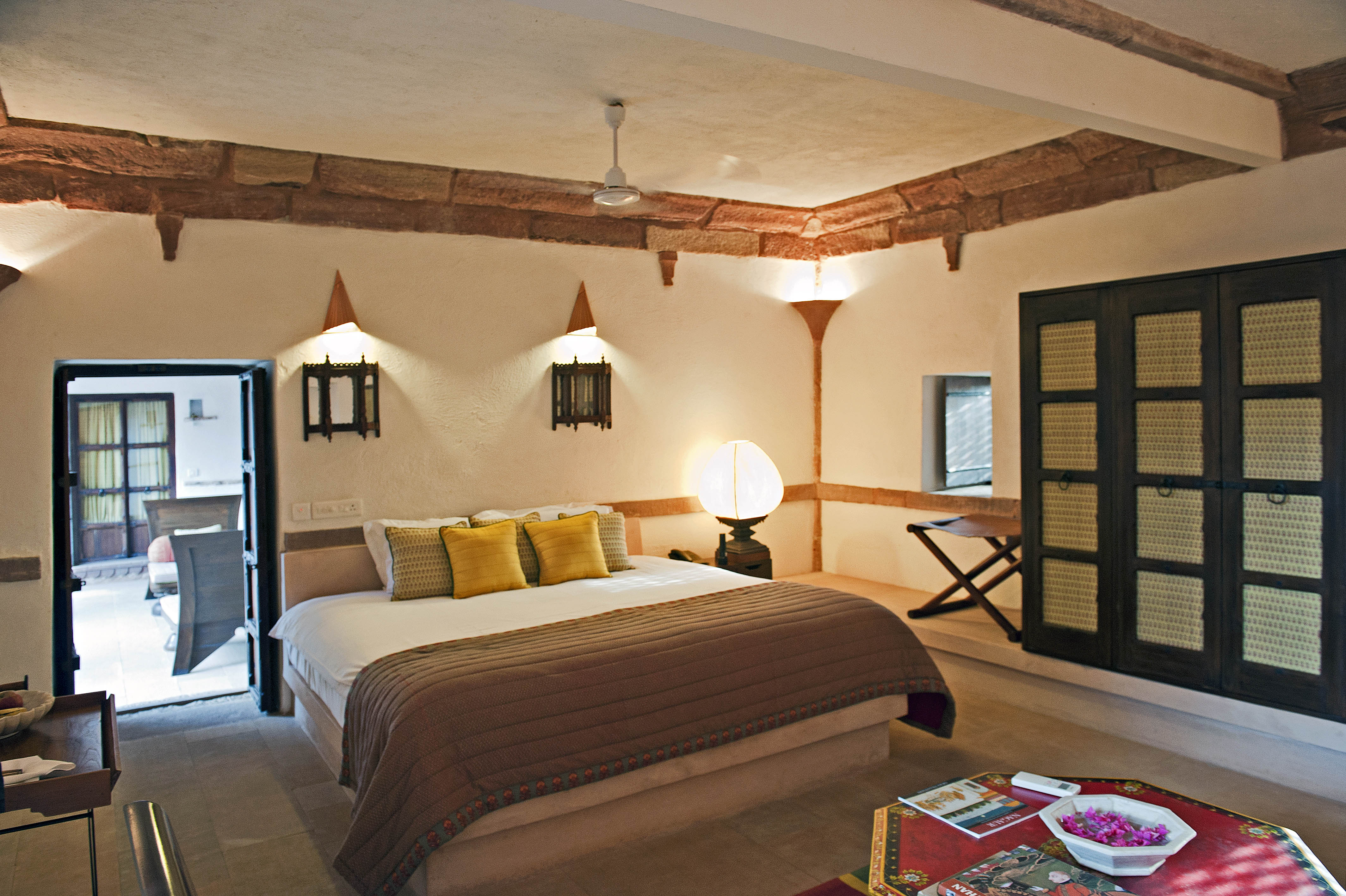 Located at a two hours drive from Jodhpur, this fort is situated in Nagaur. To relieve the king from his political stress, this place acted as a refuge from all external affairs, palatial havelis were built within the fort of Ahhichhatra-Garh. Unpolished sand- stone pillars and jaafris, antique wooden jhulas, silk draperies, Oil lamps lining the gravel and sand stone alleys, luxurious suites with private terraces. You can experience it all in this palace and get a glimpse of imperial living.Those who are fond of art must visit this place in the month of February when the World Sufi Spirit Festival is held.
TYW recommends this place to all those looking to nurture the wanderlust within, its a true magical experience.
Find their Website here.
Welcome Heritage Bal Samand Lake Palace
Balsamand Lake was built in 1159 AD by Balak Rao Parihar. This artificial lake is situated 5 km from Jodhpur on Jodhpur-Mandore Road. If you are in love with nature and want to enjoy it in a palace, then this is the place to be. This property is set over 300 acres of perfectly manicured gardens(which are housed groves of trees like mango, papaya, pomegranate, guava and plum), a beautiful lake and a golf course and still has only 35 rooms,  so it's peaceful and one of the best places to unwind and relax. You can even enjoy a horse carriage ride(buggy) in a perfect royal style. There are around 35 best breeds of horses in the palace and full equipped stables for them, you can go have a look at them and even enjoy a ride.
Find their Website here.
RAAS
Raas is located in the shade of the beautiful Meherangarh Fort (an unmissable outline from anywhere in the hotel). It is a restored haveli now converted into a beautiful boutique hotel with 39 rooms which blend the latest in designer chic with 18th-century craftsmanship. The Darikhana Indian restaurant has a delightful terrace and the poolside Bardari pavalion cafe has a beautiful view as well.
Find their Website here.
Rohetgarh
Once a royal residence, Rohetgarh is now also a beautiful heritage hotel with flora and fauna. You can watch peaococks strutting around the gardens. This is how you wake up in the morning here with the chirping of the birds and with peacocks. The rooms are adorned with Rajasthani frescoes and murals. You can live here like Maharaja's and that too on  a pauper's budget.
Find their Website here.